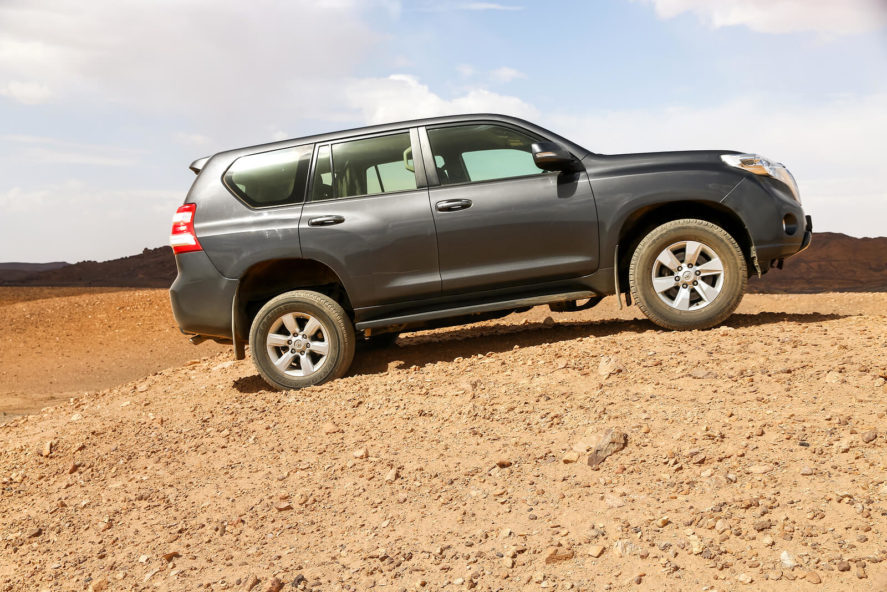 A used off-road family SUV should check a few boxes—affordability, capability, and ample seating and cargo space to name a few. You want an SUV that doesn't get stuck in snow or mud. For performance and reliability of a truly capable off-road SUV, here are some family-friendly used models you should consider.
Toyota Land Cruiser
The Land Cruiser combines the best of an off-road vehicle and a family car. Its V8 engine and 4×4 system are complemented by a limited-slip locking center differential. The SUV also includes Hill Start Assist and Downhill Assist Control. When turning, the brakes on the inside rear wheel are engaged by the Off-Road Turn Assist system to tighten the turn radius. Being a full-size SUV, it is large enough to fit the entire family on an off-road adventure.
Toyota FJ Cruiser
A part of the Land Cruiser brand, the FJ Cruiser sustains four-wheel drive without pushing a button or pulling a lever. It also has locking front, center, and rear differential gears. When the differentials are locked, power to the wheels is split 50-50 but, for city driving, the front wheels get 40% and the rear wheels get 60%. You can always expect a firm grip on the road, which is a bonus if safe driving is at the top of your list.
Ford Explorer
The midsize SUV offers a range of advanced safety features. When it is equipped with all-wheel drive, you can take advantage of the Terrain Management System that adapts to all road conditions, including snow, mud, sand, gravel, and grass. Numerous luxury options are available. You can find an Explorer with dual-zone automatic climate control to keep you and the family comfortable, a dual-panel moonroof, and an 8-inch touch screen.
Subaru Outback
The Outback is known for its safety and fuel economy. Its all-wheel drive system allows for a great family road trip, especially with enhanced traction at high speeds. If driving conditions get difficult, you can use the X-Mode and Hill Descent Control features to smooth things out. There are also infotainment options to keep the children occupied, plus ample cargo space to pack up for a long journey.
Chevy Traverse
Seating seven or eight passengers, the Traverse offers room for a crowd and handles like a sedan. It can also tow up to 5,200 pounds depending on the trim level and model year you choose. The SUV also offers a quality experience with its quiet cabin and built-in Wi-Fi hotspot. All-wheel drive is available as an option. Therefore, you can choose from several options and features when shopping for a used Chevy Traverse.
Jeep Wrangler
The Wrangler's strengths are in its comfort, off-road capability, and reliability. It also provides a sufficient amount of cargo space for the family. If you prefer a manual transmission, you may find that as well. Standard features for many later models include a 6-speed manual transmission, 3.6L V6 engine providing 285 hp, stability control with roll mitigation, trailer sway control, and skid plates.
Find a Used Off-Roader for the Family at CarWorld
CarWorld is one of the largest Buy-Here Pay-Here used car dealerships in Hawthorne, CA. We can help you find a family-friendly used off-road SUV that the entire family can enjoy. Our inventory includes a wide range of makes and models. Shop with us to take advantage of in-house financing regardless of your credit situation or how you get paid, and we'll work with your budget. Visit our dealership or call us at 213-423-7740 today!