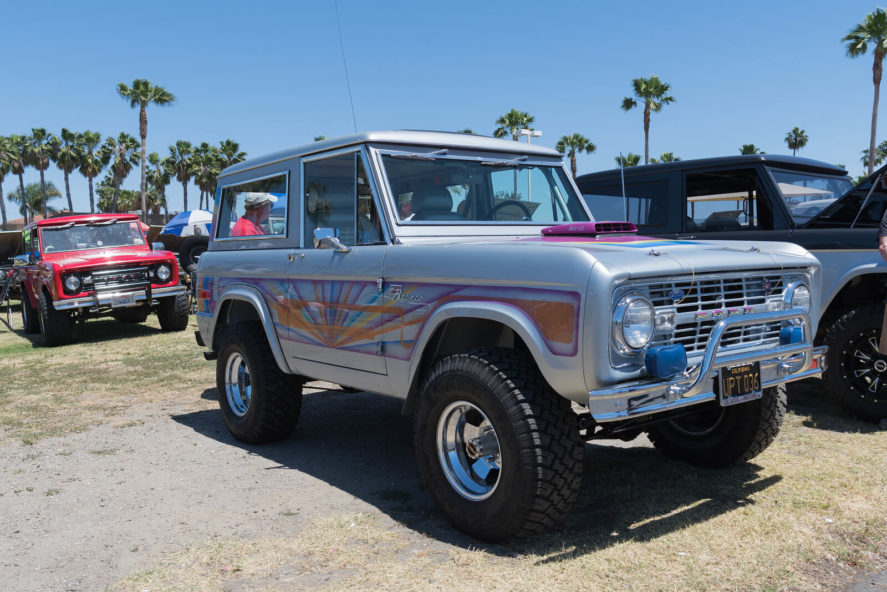 There have been no official announcements, but the 2021 Ford Bronco off-road SUV prototype has been seen and so-called spy photos have popped up on the Internet. The 4×4 prototype has a heavily camouflaged body thus far. Nonetheless, one can tell a lot about its intended audience. The new Bronco sports beadlock wheels and mud-terrain tires that may be more robust than the Jeep Wrangler's or Rubicon's.
The new Bronco is a four-door vehicle with a short wheelbase (two wheelbase options will be offered). Compared to past versions, its wheels are pushed out to the corners, a design that gives drivers a better approach and departure angles. Flared fenders, a lifted suspension, and other features point to a more rugged design. The Bronco spotted also has round headlights and LED accent lighting.
Ford's Latest Bronco Plans
As of yet, there's no official name for the Bronco off-road trim level. Standout features, though, include a spare tire hanging from the rear, with a small center high-mounted brake-light above. Lacking is a traditional liftgate, which has been replaced by a swing-gate for access to the rear cargo area. But one thing's for sure—you'll have a spare should you ever experience a flat tire on a rugged off-road path.
Other aspects of the design include a honeycomb-like grille that is highlighted by oval cutouts. The 2021 Bronco is likely to have a single tailpipe, plus a towing receptor so you can take some extras along. On the underside, it features a live axle with coil springs.
As far as engines, the base option is likely to be a turbocharged 2.3L inline-four engine, while an optional 2.7L V6 engine may be available. In addition to a 10-speed automatic transmission, a hybrid powertrain may be on the way as well.
When Can I Get a 2021 Bronco?
No official announcements have been released. It's expected that the Bronco will be revealed in the spring of 2020; some news reports have indicated it could be unveiled in March. More prototypes of the off-road SUV may be seen before the finished product is unveiled. The Bronco Sport, a smaller crossover, is likely to be introduced later.
Buy a Used Ford Bronco at CarWorld
While speculation builds about all the fine details of the 2021 Ford Bronco, you can find various used Broncos and other Ford vehicles at CarWorld. You can find a model suited for your needs, whether you're looking for a Ford Bronco Base, XL, XLT, or Custom trim level. We offer a range of vehicles from leading manufacturers. The pre-owned models we sell are in good condition and you can even access a CARFAX report to review each vehicle's history.
CarWorld is one of the largest Buy-Here Pay-Here used car dealerships in Hawthorne. Our family-owned business provides not only a wide selection of vehicles. We offer easy financing options, available whether you have bad credit, no credit, or receive SSI. Plus, we can assist with outside financing options and find a bank based on your credit and employment situation if you prefer. Our team has worked tirelessly to make the car-buying experience hassle-free, as our top priority is customer satisfaction.
If you're looking for a pre-owned Ford Bronco ahead of the 2021 Bronco release, visit us at 11916 Prairie Avenue. Or, call 213-423-7740 for help or to set up an appointment.