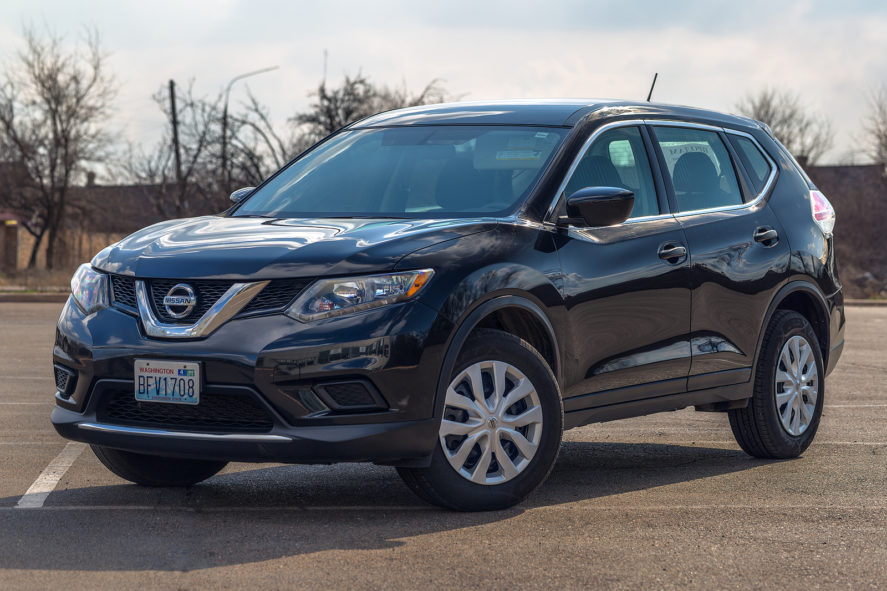 If you want the best features of a sedan and an SUV, a crossover is the way to go. A crossover is a compact SUV that, instead of a bulky truck chassis, is built on a car platform. In fact, the body and frame are one piece, making for a simpler "unibody" design. To help you find a pre-owned car at an affordable price, we've included some examples of popular crossover vehicles known for their reliability, fuel efficiency, safety, and overall quality.
Best Pre-Owned Crossovers
Nissan Rogue
Providing a sturdy, reliable ride, the Rogue is highly dependable. It also has a spacious interior; the 3rd row option makes room for seven passengers, with the extra room well-suited for young children. A hybrid-version was introduced in 2017 (without the extra seating) but really stands out on fuel efficiency. The Rogue sports the Nissan Intelligent Safety Shield Technologies suite, which includes the Around View Monitor with a 360-degree composite view to ease parallel parking, maneuvering into the garage, or hooking up a boat trailer.
Honda CR-V
The CR-V, or "Comfortable Runabout Vehicle" as it's defined by Honda, appeared in North America in 1997. It is known as one of the most reliable crossovers, and for its need for little service. As with any car, you want to keep up with tune ups and oil changes to make sure it stays dependable. In most cases, CR-Vs don't need major service for at least 100,000 miles. It's a tough vehicle as well. The 2014 model features a 185-horsepower, four-cylinder engine, a five-speed variable automatic transmission, and good gas mileage with up to 31 mpg highway.
Toyota RAV4
The RAV4 is regarded as one of the most dependable crossovers over time. It is highly regarded for its spacious interior, with comfortable seating for five, ample cargo space, and fuel efficiency. The automobile gets up to 23 mpg city and 30 mpg highway. The 2020 model, which features a 2.5-liter, four-cylinder engine that delivers 203 horsepower, received a predictability rating of four out of five from J.D. Power. But if you're looking for a used car, the 2016 model included a powerful gas-electric hybrid version.
Chevy Equinox
The Chevrolet Equinox is a popular crossover and a highly rated one at that. In 2020, the 2017 model was rated one of the Most Dependable Cars by J.D. Power. It was also offered with a lot of choices, including four trim levels and a choice of a 2.4-liter four-cylinder engine or 3-liter V6 engine that boosts the vehicle's towing capability. The compact crossover also offers a quiet ride and plenty of storage; a foldable rear seat increases cargo space for a long trip.
Mitsubishi Outlander
Featuring a third-row seat, the Outlander's interior can comfortably fit up to seven passengers. The 2019 model, revered for its refreshed exterior, has a continuously variable transmission (CVT), which contributes to the vehicle's drivability, while the suspension's front and rear stabilizer bars allow for smooth handling. A plug-in hybrid version debuted in 2018, which also integrated a 7-inch touchscreen, and the rearview camera became standard in 2017.
Contact CarWorld
These are some of the best crossover SUVs you could find on the CarWorld lot. We can help you find a practical used car that meets your needs in terms of cost and value (in great condition with refurbished brakes, tires, and wheels), and provide a warranty and flexible financing. Our Buy-Here, Pay-Here dealership is open during the coronavirus pandemic, following recommended sanitary and social distancing guidelines, so we can continue to serve you. To learn more about our large selection of pre-owned crossovers, SUVs, and sedans, call 833-219-9951 or visit us in Hawthorne today!