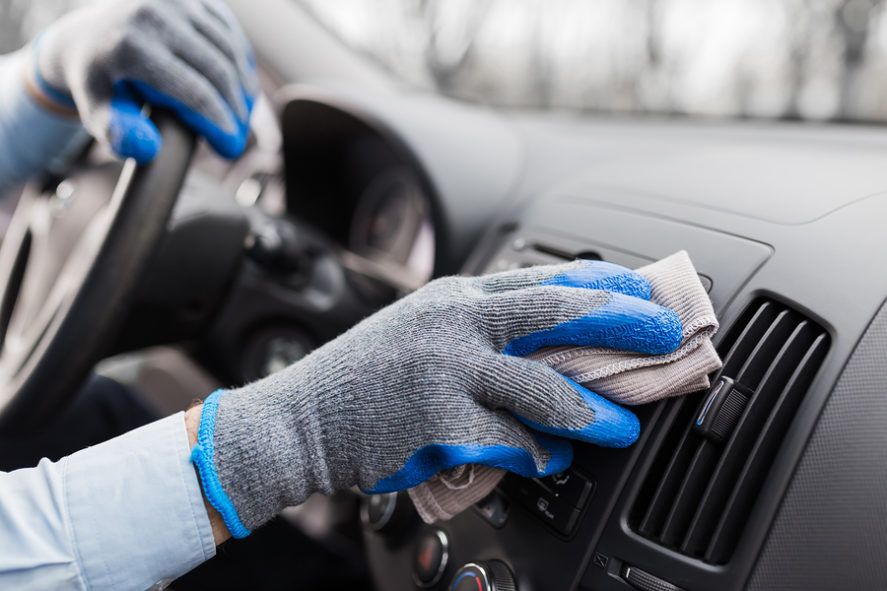 The Centers for Disease Control and Prevention (CDC) has said the most effective way to prevent the spread of coronavirus, and protect yourself against COVID-19, is to wash your hands and disinfect surfaces. Common types of cleaners are enough to protect you. But if you're concerned about protecting your car's interior, it's important to follow these tips to avoid damage and exposure to the virus through high-touch surfaces.
Important Touch-Points to Clean
Whether disinfecting your own car or going to buy a used car, clean anything that you touch, including frequently used parts such as the:
Steering wheel
Door handles
Shift lever
Touch screens
Wiper and turn signal controls
Radio buttons
Armrests
Seat adjusters
Seat belts
Storage bins
How to Clean Vehicle Interiors of Coronavirus
To avoid getting infected during the outbreak, the CDC recommends that you wash your hands with soap and water for at least 20 seconds. It also suggests not touching your face until your hands are sanitized. While the virus won't harm vehicles, using the wrong cleaners can damage various interior surfaces.
Mild soap and water help to destroy coronavirus and get rid of dirt. Soap destroys the outer covering of the virus that enables it to infect cells. Light scrubbing also works as friction helps destroy the virus (although don't scrub too hard on fabrics and older leather). Alcohol solutions, with at least 70% alcohol, are also effective. Isopropyl alcohol can be used on car leather and imitation leather, most of which are protected by urethane coatings.
However, over time, alcohol can leave leather vulnerable to damage. It can also remove the dye if used too vigorously. But fabric upholstery isn't resistant to damage either. Using too much soap and water can leave behind suds that are hard to get rid of and, if the underlying cushion gets soaked, mold can grow underneath and create a musty smell. Applying a light amount of water and laundry detergent can avoid this.
Touch screens should be cleaned with a microfiber cloth. In fact, this can be used on most other surfaces as well. Leather conditioners work to some extent, but alone aren't enough to protect you. While common disinfectants will kill the virus that can live on plastic, rubber, leather, aluminum, and other surfaces, there are other cleaning solutions you want to avoid.
What NOT to Use
Avoid using bleach, hydrogen peroxide, or any kind of solvent. These kill the virus but can damage automotive vinyl and plastics. Ammonia-based cleaners break down vinyl, so it can leave your dashboard sticky when it gets hot outside. They can also damage the anti-glare coatings on touch screens.
Also consider the type of material and the manufacturer's recommendations, such as for the specific type of fabric or leather used in your car. It's also a good idea to avoid cleaners that the label says are detergent-free. And, while hand sanitizers can help kill viruses on your skin, they are not the best products for cleaning the interiors of vehicles.
Shop Safely at CarWorld
Our Buy Here Pay Here dealership in Hawthorne has taken extensive measures to protect yourselves and our customers from COVID-19. We've trained our staff in the latest guidelines and have gone to great lengths to keep our facility clean. Our digital storefront, and vehicle pick-up and delivery services, help ensure you are as safe as possible. During this time, you can still shop from our huge inventory of low-mileage, high-quality pre-owned cars. Call us at 833-219-9951 to learn more or schedule a visit/test drive.