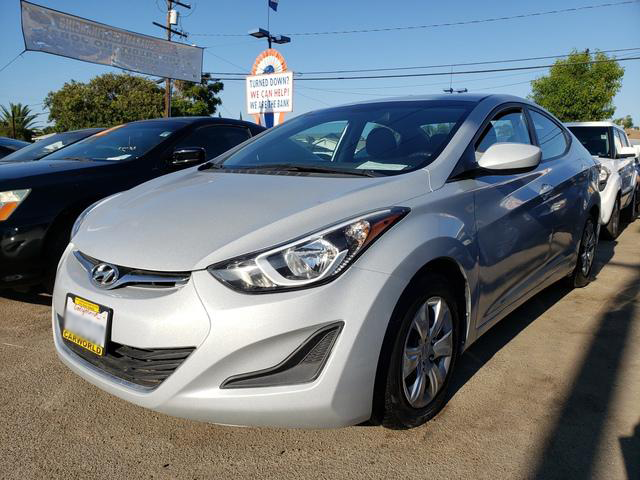 Buying a used car can be an affordable option. A car that's just a few years old can provide long-term reliable performance, while allowing you to take advantage of all-wheel-drive, navigation, and even hybrid technology at a lower cost. If you're looking to take advantage of depreciation and used car deals, here are some of the best used cars for under $10,000.
Sedan and coupe body styles are available. This compact car also comes with a 5-year/60,000-mile warranty that, while not transferrable, means an original owner who hasn't reached the limit on their odometer has likely taken care of any issues. The base engine of the 2016 Elantra is fuel efficient (achieving up to 38 mpg highway). Plus, there's roomy seating for five and even more cargo space in hatchback models.
2011 Toyota Camry
The 2011 Camry is a used car to consider because of its smooth, quiet ride and reliability, not to mention cabin and cargo space. A four-cylinder engine is standard, while an available V6 engine adds even more horsepower. Numerous standard safety features were added for the model year, including adaptive cruise control, a pre-collision warning system, and lane departure warning with steering assist.
2009-2013 Mazda 3
The Skyactiv engine provides up to 263 hp (the base engine offers a comfortable 148 hp), while the vehicle gets up to 40 mpg highway. A touchscreen navigation system was added in 2013. Available as a sedan or hatchback, the Mazda 3 is known for precise steering and sharp handling. The base trim comes with steering wheel mounted audio controls while the base hatchback offers push-button start and dual-zone automatic climate control.
2011 Honda Accord
A highly rated midsize car that ranks well in reliability, safety, and comfort. Different powertrain configurations are available, as are engine options that range from 177 to 271 hp. Power windows and locks, keyless entry, a six-speaker sound system, and cruise control are included in the base LX trim; the Accord EX trim adds a moonroof, power lumbar support for the driver seat, and heated side mirrors.
2009-2014 Volkswagen GTI
If you like a hatchback, the sixth-generation Volkswagen GTI is a high performer. Its 2.0-liter turbocharged engine delivers 200 hp. The car is known for great handling as well. Transmission options include 6-speed manual and 6-speed dual-clutch automatic with a launch control feature that gets you moving quickly.
2006-2013 Lexus IS
The rear-wheel-drive sports sedan is available as the IS 250, which features a 2.5-liter V6 engine, providing 205 hp. It has dual-zone automatic climate control and a 13-speaker audio system. If you can find an IS 350 out there, you'll get a larger 3.5-liter, 306 hp V6. That's a great deal for a car under 10K. The 2013 sedan comfortably fits four or five people and there are standard 10-way power-adjustable front seats.
2010 Subaru Outback
You can get an all-wheel-drive with the ruggedness of an SUV and utility of a station wagon for under 10K. The base engine delivers 170 hp and the vehicle provides ample storage space for a vehicle in its class. Base features include manual transmission and a four-cylinder engine (a six-cylinder engine is available). Continuously variable transmission is available as well. The Outback has a high ground clearance, suiting it for inclement weather.
These are just a few of the best, used cars in Hawthorne available for under 10K. To find these vehicles and others at great deals, browse our inventory, call 833-219-9951, or visit our Hawthorne dealership today.