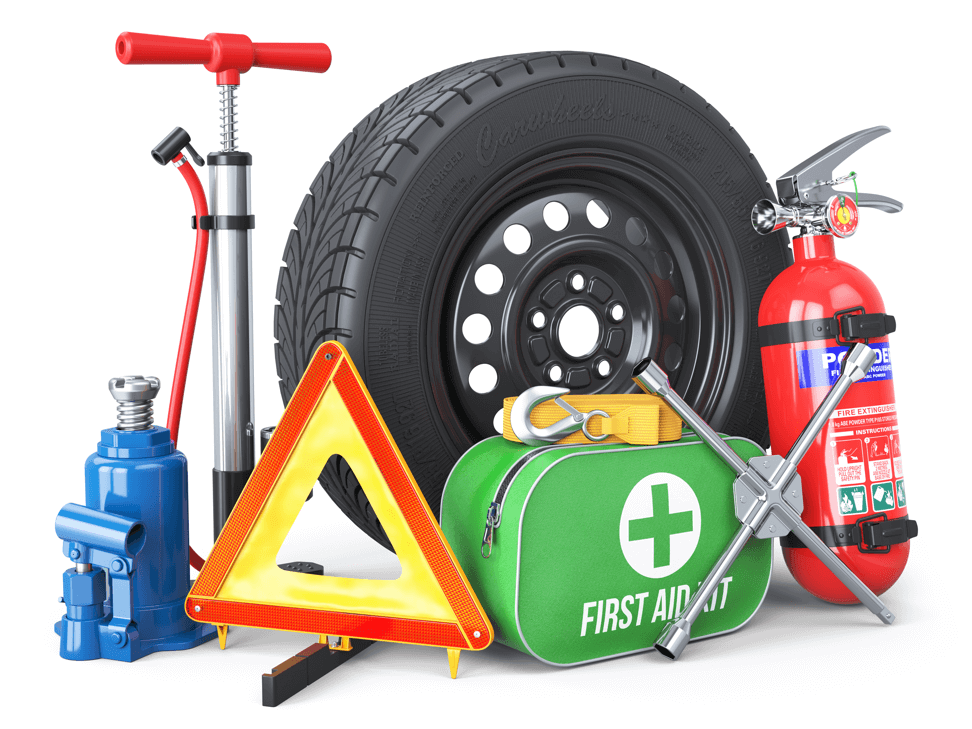 When you're on the road, you never know when an emergency is going to crop up. A few car essentials can be very helpful if your vehicle breaks down; some can even be lifesaving. Therefore, the question you should always ask yourself is: "What should I always have in my car?"
To answer that, here is a list of eight essentials you should always have:
1. First Aid Kit
A first aid kit is an essential item you can easily stow in the glove compartment. Whether or not your vehicle breaks down, minor wounds require immediate care. Some of the supplies can even provide preliminary care for more serious injuries until emergency help arrives. You can stop the bleeding or prevent infections that can complicate matters further.
2. Spare Tire
If a tire blows out or goes flat, a spare can get you back on the road until permanent repairs can be made. But if you do have a spare tire, check it from time to time to make sure it's in good condition. A tire jack and tire iron should be kept handy as well. Also keep a sealer to plug a leak, a tire inflator, and a pressure gauge.
3. Jumper Cables
A dead battery can happen in any vehicle. Jumper cables connect to the battery terminals, so you can get juice from a friendly stranger. An emergency battery booster is an even better idea because you won't have to worry whether someone will stop to help.
4. Hazard Equipment
Brightly colored hazard triangles, vests, and flares are essential when you get stuck on the road at night. They ensure you and your vehicle are visible. A lack of visibility can put you in serious danger if other drivers can't see you.
5. Fire Extinguisher
It's rare for cars to catch fire. But with a hot engine, fast-moving parts, and flammable gasoline, having a fire extinguisher is a good idea. In an emergency, there's no question as to whether you need one or not because an extinguisher can save your life.
6. Duct Tape
Duct tape can fix just about anything, and anything in a car can break. Whether you need to seal up a ripped bag, cover up a broken window, or seal up a hole in a panel, strong tape can hold until you can get to a repair shop.
7. Flashlight
You'll need to see if you get stuck at night. A good flashlight can help you change a tire or get a sense of your surroundings. It can also help you notify other drivers of your presence, or even flag them down for help.
8. Phone Charger
Whenever everything else goes wrong, it seems our cell phone batteries go dead. Having a phone charger enables you to stay in touch with family and friends during your emergency. You can also call for help and maybe get a towing company to come out at night.
These are just a few essentials; you also don't want to forget water, a warm blanket, and a change of clothes. Even some kitty litter helps if you need to get off a slick spot.
Find a Used Car at CarWorld Today
If you're looking for an affordable, reliable used car, CarWorld can make sure you drive away the same day in one that meets all your wants and needs. Call today at 833-219-9951 or visit our car dealership near you in Hawthorne to learn more about aggressive financing and the latest deals.