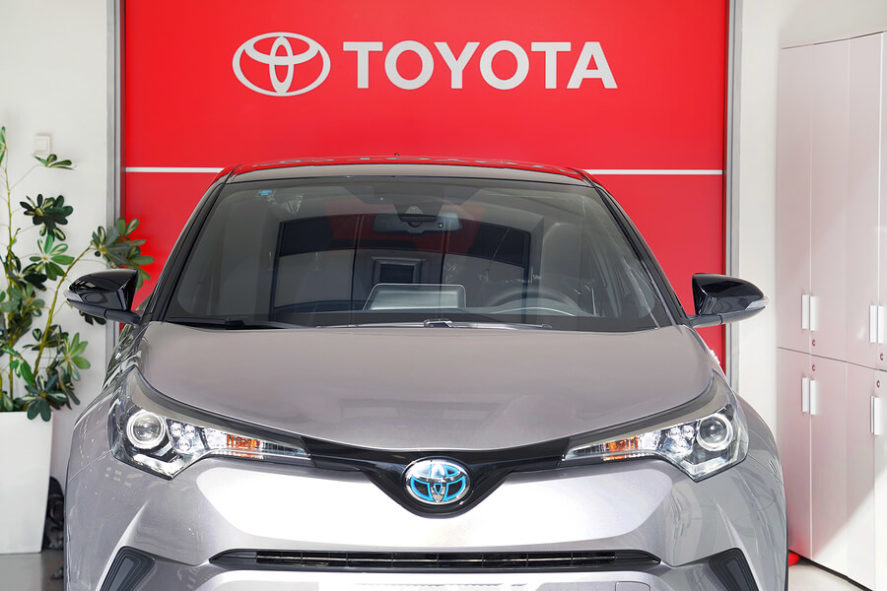 Since the Prius was launched in 1997, Toyota has dominated the hybrid vehicle market. The Prius has the distinction of being the first mass-produced gas-electric hybrid consumer vehicle. Toyota of America, now with hybrid technology offered across 44 individual models, has sold over 15 million of them globally and continues to lead in the green space.
According to Toyota Europe, the company's hybrid electric technology has reduced CO2 emissions by over 120 million tons worldwide. Being a leader in hybrid electric vehicles (HEVs) came from a strong vision. "It is thanks to our hybrid sales that Toyota is well on its way to meeting the 95g/km target set by the EU for 2020 and 2021 in Europe, where CO2 regulations are the toughest in the world. In addition, our full hybrids are also incredibly effective at running without emissions for the majority of the time in cities," said Matt Harrison, Executive Vice President of Toyota Motor Europe.1
History of Toyota Electric Vehicles
Toyota has sold 2.8 million hybrids in Europe; two-thirds of all new passenger vehicle sales in the U.K. are hybrids. By March 2020, it had sold 356,630 HEV models there.2 In just over two decades, Toyota has improved the performance, fuel economy, and perception of these vehicles.
It has also made its HEVs, along with plug-in hybrids, battery-electric vehicles, and hydrogen fuel cell vehicles, a priority for the future. Not that Toyota has struggled to reach its goals. Its first 5 million hybrids were sold between 1997 and 2013, and by 2017 it reached 10 million hybrid sales. Hitting the 15 million mark then took just three years.3
By 2025, Toyota plans to introduce 40 new or updated electrified vehicles, including crossovers, SUVs, and a sedan, many using battery or hydrogen fuel cell power. The company plans to sell 4.5 million more hybrids by then. According to Reuters, it currently accounts for 80% of global hybrid vehicle sales.4
The Line-Up
Prius: Since 2003, it has been produced as a five-door liftback, a type of hatchback that is more horizontally angled. The U.S. Environmental Protection Agency has rated it among the cleanest vehicles sold in the country.5
Mirai: A mid-size, hydrogen fuel cell car introduced in 2014. With the 2020 model year, it has an increased driving range and hydrogen capacity.
Avalon: The hybrid gas-electric model was introduced with the 2013 model year and was redesigned in 2018 with a 113-inch wheelbase.
Camry: U.S. News & World Report ranked the 2020 Toyota Camry Hybrid #1 in Hybrid and Electric Cars. It has a gas mileage of up to 51 mpg city and 53 mpg highway.6
Corolla: A hybrid with some of the latest standard safety features, including adaptive cruise control and forward collision warning, as well as a front-wheel continuously variable automatic transmission.
Highlander: An SUV with three rows of seats that offers a comfortable ride and ample cargo space. The fuel economy, at 36 mpg city and 35 mpg highway, is more like that of a compact car.7
RAV4: Also known for its great fuel economy, the RAV 4 hybrid is peppy and offers a large cargo area. The cabin is upscale and roomy and offers lots of user-friendly technology features.
Tundra/Tacoma pickup trucks: New models will both share the F1 platform. The Tundra is a full-size pickup and the Tacoma is a compact model; rumors of a possible Tundra hybrid release have been around for a while.
In addition, Lexus of America hybrids include the UX, NX, and RX crossovers; ES and LS sedans; and the LC coupe.
Visit CarWorld and Buy a Used Car Today
CarWorld is a Buy Here Pay Here (BHPH) dealership that offers all makes and models, including Toyota, Lexus, and other top brands. If you are looking to buy a car and get more for your money, shop for a used car here. We are open for business and have implemented a comprehensive COVID-19 response to protect you. Call 833-219-9951 to learn more about our inventory and car financing.
Sources: