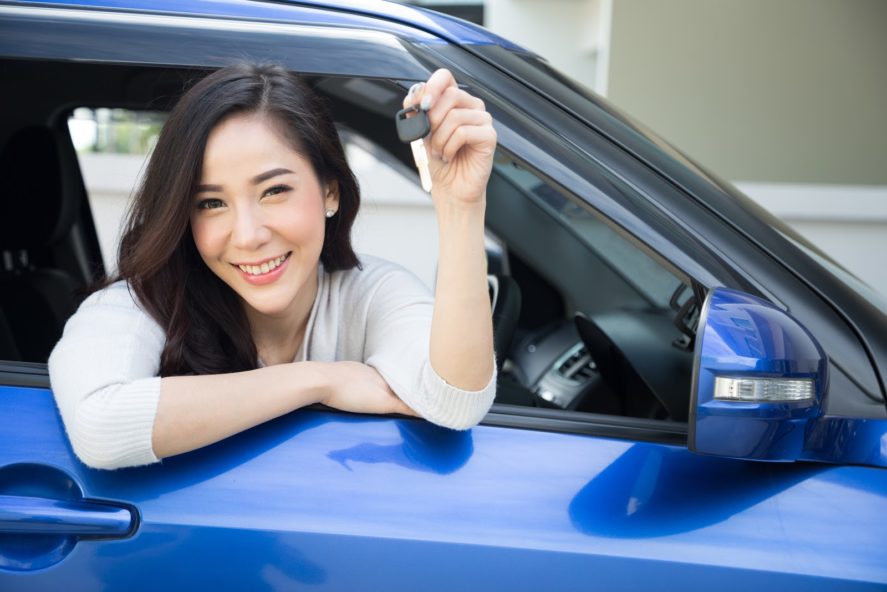 Graduation is a right of passage for young people all over the world. The same can be said for buying a car. Both occasions are significant milestones in anyone's life and deserve a serious pat on the back. And what better way to congratulate yourself than by purchasing a used car for all that hard work and effort. 
Whether you've saved up through the years or you have a generous benefactor to help you get your dream car, buying a used car is a great option for new graduates. New cars are an appealing choice, but they aren't always the wisest investment as you enter into this new stage of adulthood. With the added responsibility and expenses of moving out on your own, possible student loan debt, and straight-up survival funds, making sure that you choose a car that is within your budget is a crucial financial decision. 
New cars lose about 10% of their value the moment you drive them off the lot, and 20% in the first year alone.
When you're going car shopping make sure you have done your research, including the resale value, practicality, and gas mileage of the vehicle. With all of those factors taken into consideration, here are some of the most popular used cars for 2020 graduates. 
Best Used Cars For 2020 Graduates
If you're a 2020 college grad and looking for a used car that is affordable, safe, AND stylish, then you're in luck. From safety features to cargo space, financing options, and fuel economy, we took it upon ourselves to compile a list of the best used cars for young adults. 
2016-2018 Honda Civic:

Honda Civics

always seem to be on the 'best of' lists, and for good reason. These recently redesigned powerhouses are affordable, sensible, and spacious. When this popular car manufacturer decided to upgrade its performance package and increase the cabin size of their 2016 models, it was all uphill from there. Honda's are known for their reliability. If you treat your Civic with love and conduct

routine maintenance

like regularly changing the oil, checking fluids, and rotating the tires, there is no reason why you wouldn't be able to effortlessly surpass the 200,000-mile marker without making significant repairs. The Honda Civic is best suited for the pragmatic grad that wants the most

mileage

for their money. 
2012-2017 Fiat 500:

Don't underestimate the value of this tiny button of a car. Fiats are certainly for the car buyer that puts more importance on appearance than practicality. But that isn't to say the Fiat 500 doesn't have some major strengths. If you don't care about having a ton of backseat space, the Fiat is an excellent choice for zipping around town and getting in and out of tight parking spaces. Plus they are typically priced under 10k, which is a steal for how stylish they are. While the stock engine isn't going to knock your socks off, the turbocharged engine in the Fiat 500 packs more punch and still manages to get great gas mileage. The Fiat 500 also comes in an electric model for graduates that are more Earth-conscious. 
2015-2016 Subaru Outback:

The Subaru Outback has earned itself an almost cult-like following among adventure seekers. This is an excellent choice for a first time graduate that puts exploration at the top of their priority list. The Subaru Outback is both rugged and stylish with the functionality of a sports utility vehicle. It comes equipped with standard all-wheel-drive so you can safely traverse all types of terrain and go wherever the road takes you. 
2016-2019 Hyundai Tucson –

Hyundai has really stepped up to the plate in recent years and has been manufacturing everything from affordable luxury sedans, tech-savvy EVs, and compact SUVs. All of which come with features that used to be reserved for higher price tag vehicles. Even with all the innovations and improvements, Hyundai has still managed to keep their cars affordable and reliable. And that is what makes the

Hyundai Tucson

such a winner in our book. With amazing safety features, high-reliability ratings, and a spacious interior, this is the perfect used car for a graduate that wants the most for their money.   
2015-2016 Ford Mustang:

If you like to live on the edge and want to invest in some extra horsepower to carry you into the next chapter of your life, the

Ford Mustang

is for you. Mustangs have been around for over 50 years and are the epitome of performance and speed. The 2015 redesign came with more upgrades to the cabin and onboard technology. While the GT models may be slightly impractical for some recent graduate's

budgets

, Ford didn't leave you hanging. The EcoBoost Mustang provides 30 miles to the gallon on the highway and is priced perfectly for young adults that are ready to have a little fun on the road. 
 CarWorld Has the Best Selection of Used Cars for 2020 Graduates
Attention 2020 Graduates! We have made it simple to borrow money to purchase the vehicle you want. Our Buy Here Pay Here (BHPH) used car lot in Hawthorne offers hundreds of top-brand vehicles. If you're looking to buy a used car, we are open for business during the pandemic. In response to the ongoing COVID-19 outbreak, we are taking extra steps to keep our facilities sanitary and ensuring our staff follows hand-washing and social distancing guidelines. Feel free to call us at 833.219.9951 and/or 310.644.9444 to get started.