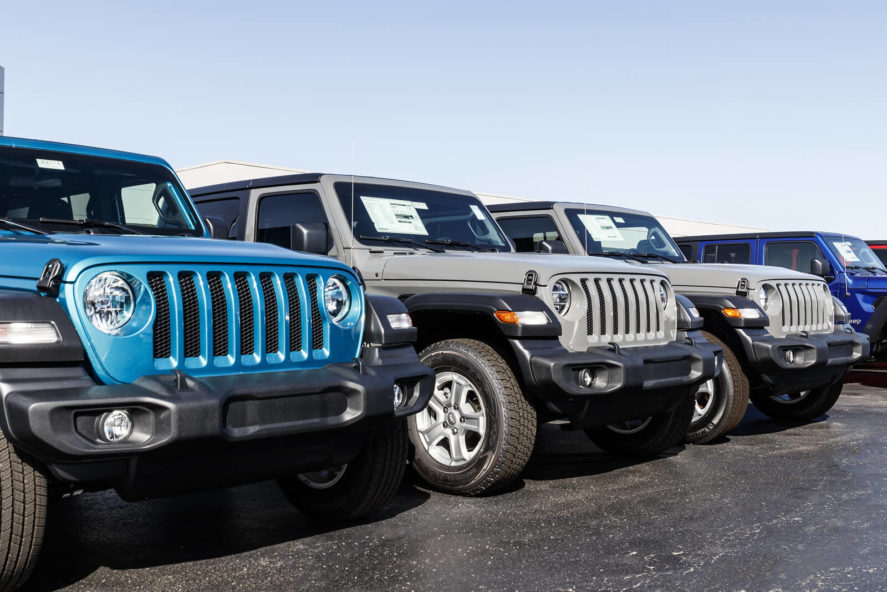 The 4xe is on its way! Jeep enthusiasts will soon have plug-in hybrid electric vehicles (PHEVs) to choose from—the Jeep Wrangler, Renegade, and Compass. All will have the 4xe badge and are expected to debut in 2020. Plug-in Renegade and Compass models were previously announced in Europe. While details are forthcoming, Jeep owners have a lot to look forward to. However, here are some details on the latest models available:
2020 Jeep Wrangler
The 2020 Wrangler has a body-on-frame design and is truck-like, although a bit more refined. A turbocharged 3.0-liter EcoDiesel V6 engine has been added, which provides 260 hp and 442 lb.-ft of torque, for the four-door Wrangler Unlimited. Start/stop is standard on all other engines for Sport and Rubicon trims. For Sahara models with an automatic transmission, an eTorque mild-hybrid system is integrated with its gas V6 and turbo-four engine.
Reported to be just as capable as its gas counterpart, the 2021 Jeep Wrangler PHEV will also feature the same solid front and rear axles. It's not expected the wheels will be driven by an electric motor. There are many details to be filled in, but the styling is expected to be identical, or nearly so, to the existing Wrangler.
Plug-in Hybrid Crossovers
The Jeep Renegade and Compass PHEV plug-in hybrid crossovers have already been unveiled at the Geneva Motor Show. These models have an electrified AWD and include a 1.3L turbo engine providing 190 to 240 hp. Both models can reach 62 mph in 7 seconds. You get an estimated 31-mile range in full electric mode and each crossover can reach over 80 mph while on electric power. Instant electric torque, according to Jeep, supports off-road capability; the all-wheel drive is engaged electrically as there's no physical propshaft.
PHEVs Take the Market by Storm
The U.S. electric vehicle market has been driven by government incentives, but many automakers are investing in PHEV versions of their popular brands. Although the first hybrid electric car was produced in 1899, the concept wasn't revived in earnest until the early 2000s. Since then, Toyota, General Motors, Ford, and others have introduced hybrid electric vehicles.
Government agencies, specifically the California Air Resources Board (CARB), have influenced the demand for plug-in hybrids. In 2008, CARB set a requirement for the number of PHEVs that automobile manufacturers had to produce. Prototypes of a plug-in Jeep Wrangler and other vehicles soon followed. Next came the Energy Improvement and Extension Act of 2008, which provided tax credits for certain plug-in electric vehicles; these tax credits were further extended and modified the following year with the American Clean Energy and Security Act of 2009.
The new Jeep models follow a long line of releases since mass-produced hybrid vehicles became publicly available in 2010. At the time, they were available in the United States and China, and over 40 models were also available in Canada, Japan, and Western Europe by late 2017. In December of that year, the U.S. led the plug-in hybrid car market with 360,510 of them.
Save on a Used Jeep at CarWorld
At CarWorld, we stock used Jeeps, including the Wrangler, Compass, and Renegade, so you can save on pre-owned models as new hybrid-electric ones are introduced. We only put models on our floor that are in excellent condition and that have been multi-point inspected. One of the largest Buy-Here Pay-Here used car dealerships in Hawthorne, we offer in-house financing and other financing options. For more information, call 213-410-5045 or visit our local dealership today.